Peggy and I recently enjoyed a 12 day visit to Costa Rica with the intent of seeing as many birds as possible. We joined a group of 12 other "birders" of different intensities in our quest. The trip was organized by the owner of our local Wild Birds Unlimited store. He had returned a year earlier from a very similar trip full of amazement and excitement for the country and the birds. He asked us just after his return last year if we would be interested in going if he could put together a trip for this year. We had been entertaining visiting Costa Rica last summer but ended up going to Panama, so we were excited at the prospect. While we often prefer traveling on our own, I can't emphasize the importance of having a guide when you're birding. Fortunately we were led by a very enthusiastic and extremely knowledgeable guide and owner of Tropical Feathers/Sunny Travel, Noel Urena. He was simply amazing at his ability to hear, identify and often bring in a bird for us to see. We would be walking along in conversation when Noel would suddenly speak up and say, "A such and such bird is calling", and then proceed to call it in either by his own bird calls or the use of a recorded voice. When you're searching in densely packed ground vegetation or high canopies, the bird's call are often all you have to notice them by.
A red-eye trip from LAX leaving at 1:30 am put us on the ground in the Costa Rican capital of San Jose at 9:00am.
There we were met by Noel and a 27 passenger bus driven by Luis. These two would escort us for the next 12 days to four different "eco-lodges" spread on both the Caribbean side and the Pacific side at various elevations.
Our first stop was at the La Selva Biological Research Station in the Caribbean lowlands. It is located in the middle of a rain forest and on the Sarapiqui River. Here we spent 3 days and nights exploring the diversity of plants and animals with walks both day and night.
Peggy taking in the views of the Sarapiqui River....
The bridge offered a great viewpoint to observe the river and adjacent jungle but was murder for taking photos as it swayed when anyone took a step.
One of the residents living in the trees along the river...
Of course bird life was the main objective and Peg wasn't disappointed. I know I'm going to over do the amount of pictures here but I just can't help it.
Rufus Motmot
Broad-billed Motmot
Laughing Falcon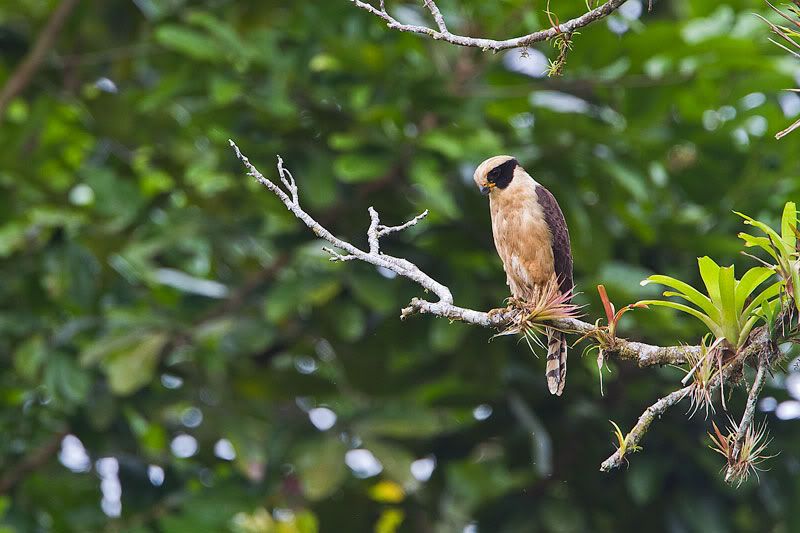 Peg's 1000th life bird, the Rufus-tailed Jacamar, about the size of a humming bird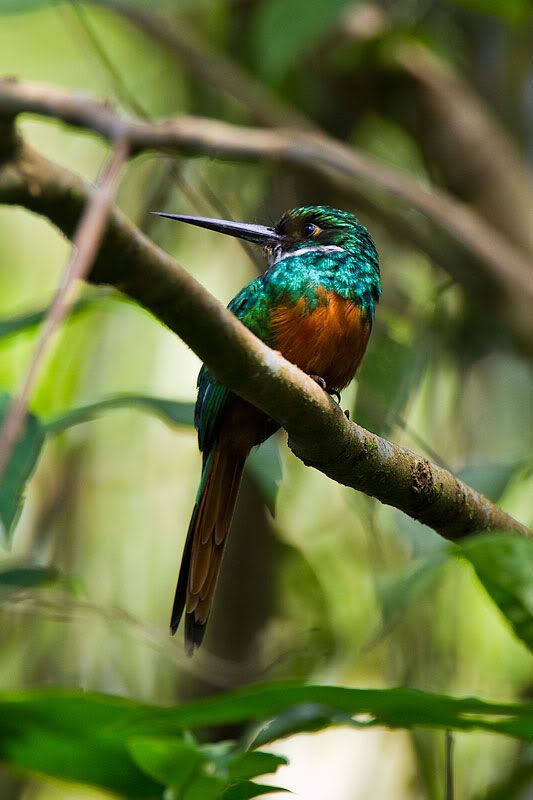 Slaty-tailed Trogan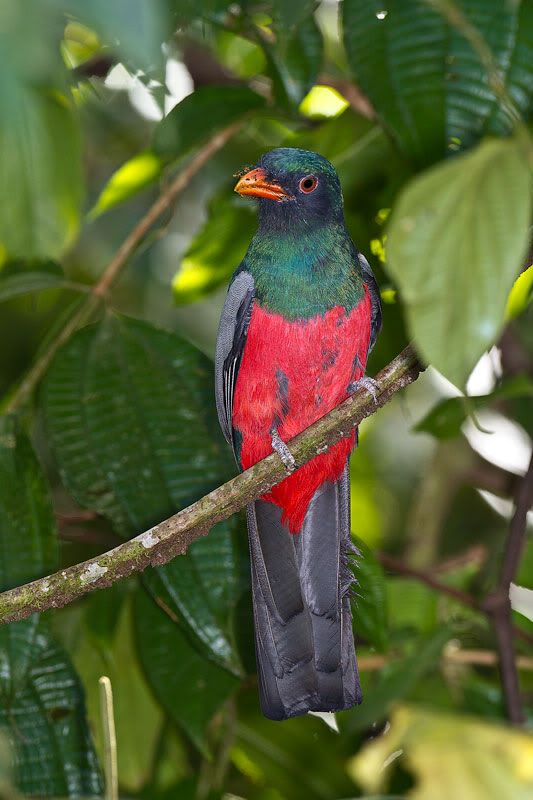 Gartered Trogan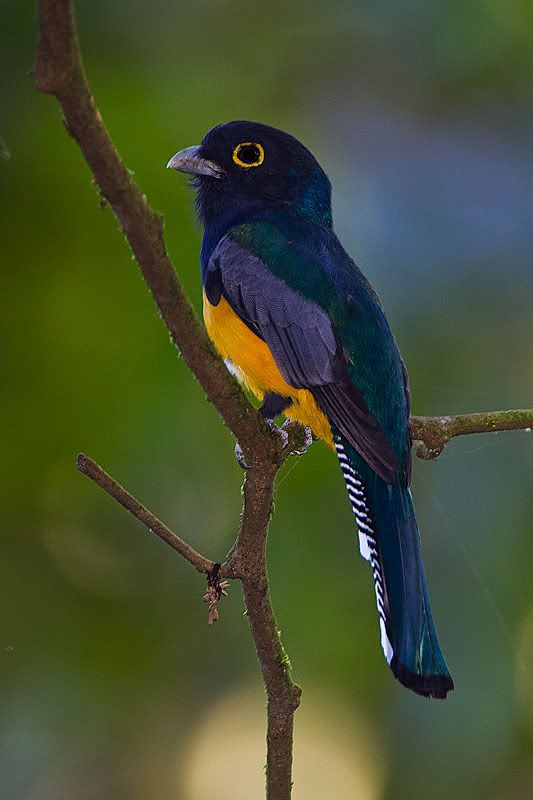 Golden-hooded Tanager
There were more things to watch than the beautifully colored birds around La Selva, especially if you were a member of the local Howler monkey troop. This mom and youngster were quite content to watch the people cross the bridge as they looked on from above.
After 3 days it was time to move the show due west to Arenal Volcano National Park and Arenal Lodge. Its elevation at 2,400 feet combined a combination of lowland and middle elevation species. The lodge was situated at the base of the volcano with great views of the mountain and beautifully manicured gardens and paths to explore and look for birds.
A shot from the balcony of our room.
On the deck in front of the dining room was a large cecropia tree occupied in the early morning light with a dozen or more Montezuma's Oropendula.
These birds would make a crazy sound and to display for the females, fall over.
The nearby trees and grounds were also filled with other incredibly colored birds.
Crimson-collared Tanager
Green Honey Creeper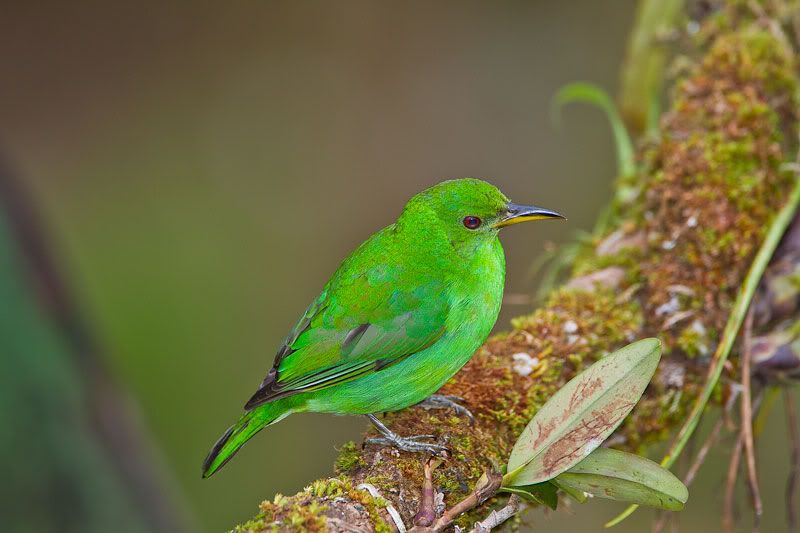 Bay-headed Tanager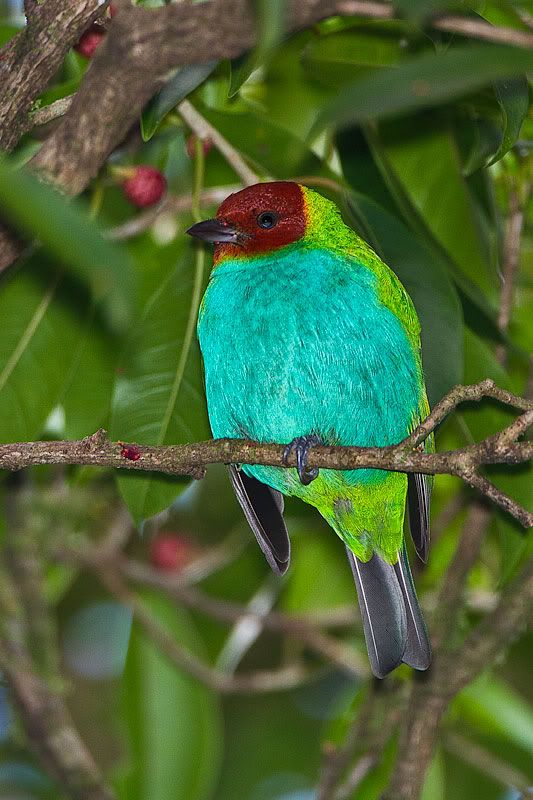 Crested Guan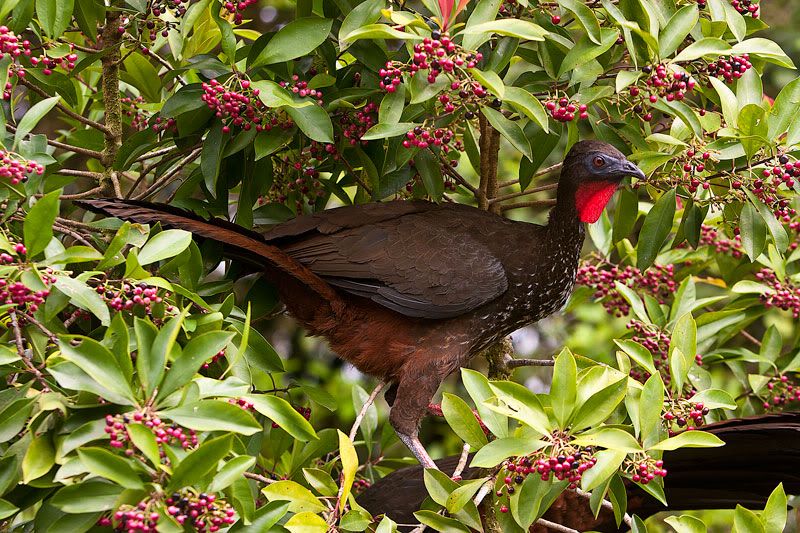 Red-legged Honey Creeper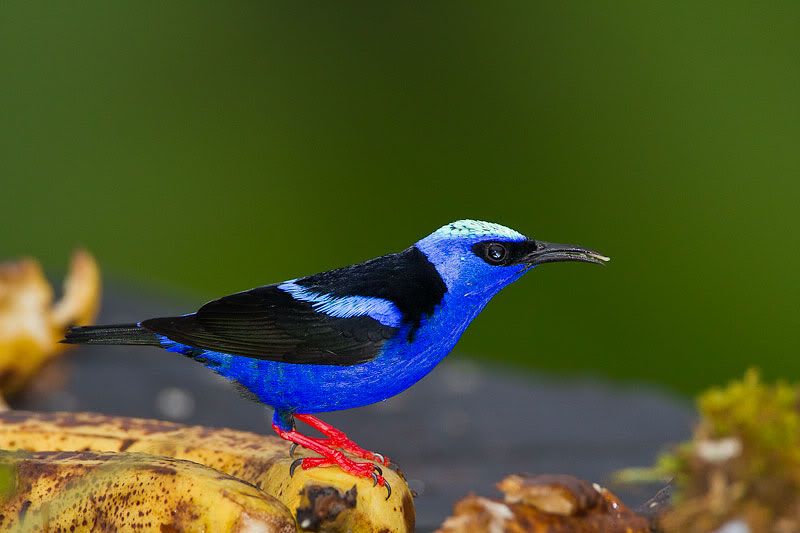 There were also a number of White Nosed Coatis running around to entertain the visitors.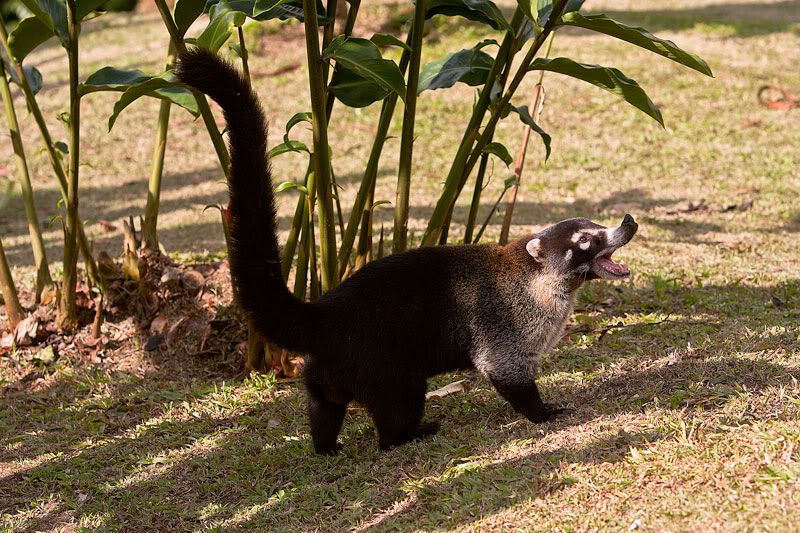 And in the bushes outside the lodge we spotted this Eye-lash Pit Viper.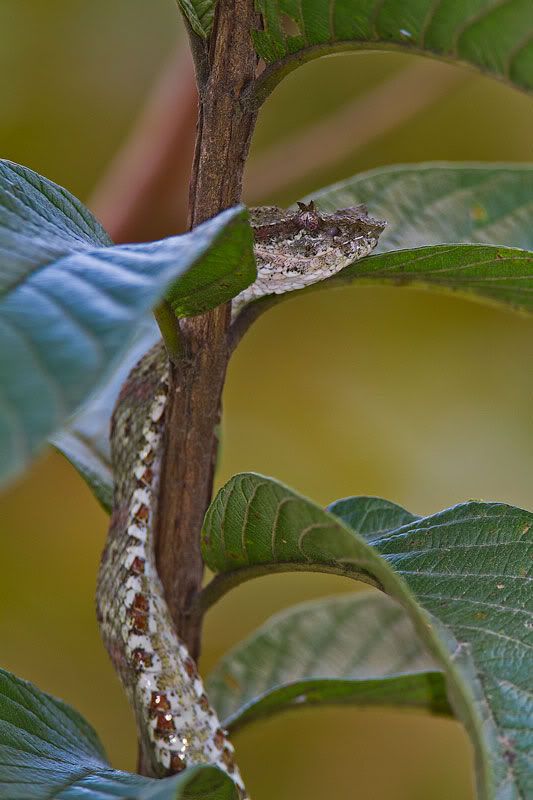 Unfortunately the volcano has been quiet for more than a year so we didn't get to see any volcanic activity. After 2 great days and nights at Arenal Lodge it was now time to head west to the Pacific Ocean and south down the Costa Rican coast to visit our next destination, Cerro Lodge. It is also time to end part 1.
Part 2
http://forums.yellowstone.net/viewtopic.php?f=18&t=12753
Bill & Peggy